Leg & Knee Pain Relief Doctor Near Gambrills, MD
Most people associate leg and knee pain with just the knee but it can also be referred pain from the low back, pelvis, or hips. With a leg or knee, injury can happen because of trauma like an injury during sports or a fall, it can be in pain because of overuse but also other factors can cause pain.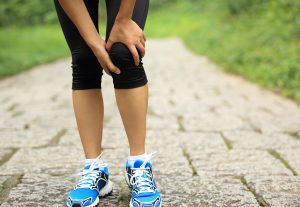 A person could see swelling and redness as well as feel weakness of the knee, a popping or crunching noise, the inability to straighten it or pain when walking, running, jumping or squatting. Knee pain can be treated with Chiropractic adjustments and physical therapy as well as muscle stimulants near the Gambrills area. If you feel any of these symptoms, come see us today by making an appointment.
Orthotics are a great way to help with issues related to walking and alignment, including knee, foot, and lower back pain. They can help to realign the bones in the foot and ankle, and take stress off other parts of the body, such as the back, neck, shoulders, and hips. Custom foot orthotics near Gambrills also cushion your feet, provide comfort, support your arches, and evenly distribute your body weight to eliminate pressure on your feet.
If you live or work near Gambrills, MD areas call the offices of Dr. Lief Hands @ Precision Chiropractic and Rehabilitation today to schedule your appointment 410 370-0600. If you are feeling any pain in your leg or knee, make an appointment and let us help you feel better today.
Leg & Knee Pain Relief Chiropractors 21108
Precise Chiropractic & Rehabilitation
2191 Defense Highway, Suite 308
Crofton, MD 21114
Phone: (410) 370-0600
Gambrills refers to two neighboring places in Anne Arundel County, Maryland, in the Baltimore metro area: the unincorporated community of Gambrills, and the Gambrills census-designated place (CDP). The area was named for Augustine Gambrill, plantation owner. The population of the CDP was 2,800 at the 2010 census,[1] up from 1,759 in 2000.
/wp-content/uploads/2017/04/drlhands_logo15a.png
0
0
admin
/wp-content/uploads/2017/04/drlhands_logo15a.png
admin
2019-08-03 17:29:19
2019-08-03 17:37:49
Leg & Knee Pain Relief Doctor Near Gambrills, MD